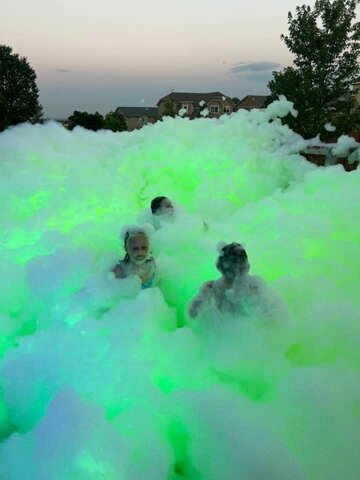 UV GLOW FOAM PARTY
Get ready to light up the night with our UV Glow Foam Party! This unique and exciting event is perfect for those looking to add a splash of color and fun to their party experience. Our UV Glow Foam Party is guaranteed to create an unforgettable atmosphere that will leave your guests in awe.
What sets our UV Glow Foam Party apart is the use of ultraviolet (UV) lights and specially formulated foam that glows in the dark. As soon as the party starts, the UV lights will illuminate the foam, creating a mesmerizing and vibrant glow. Your guests will be immersed in a sea of neon colors, making for incredible photo opportunities and a visually stunning experience.Our UV Glow Foam Party is suitable for all ages and can be enjoyed by kids, teenagers, and adults alike. Whether you're hosting a birthday party, a corporate event, or just want to have a memorable night out with friends, our UV Glow Foam Party is the perfect choice.The combination of the music, lights, and foam creates an electric atmosphere that will keep your guests dancing and having a blast all night long.Safety is our top priority, and we ensure that our UV Glow Foam Party is safe and non-toxic. The foam solution we use is dermatologically tested and hypoallergenic, making it suitable for all skin types. Our experienced staff will also be on hand to ensure that everything runs smoothly and to answer any questions or concerns you may have.
So, if you're looking to take your party to the next level, look no further than our UV Glow Foam Party. With its glowing foam, UV lights, and energetic music, it's a guaranteed hit that will leave your guests talking about it for years to come. Book your UV Glow Foam Party today and get ready to glow like never before!