#1 Source For Dundee Bounce House Rentals - Bounce It Again
Clean, On Time Delivery For All Dundee Bounce House Rentals!
Welcome to the exciting world of
Dundee, FL
Bounce House Rentals! We're your go-to choice when it comes to making your parties, events, and gatherings in Dundee a bouncing success. With us, fun and laughter are just a bounce away. If you're looking for the best
Dundee Bounce House Rentals
, you've come to the right place!
Order-by-Date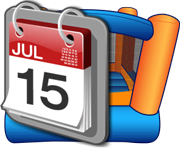 Water Slides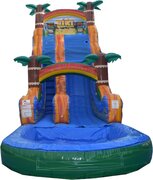 Bouncer with slide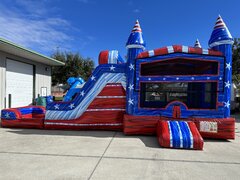 Bounce Houses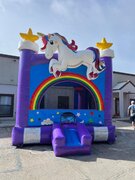 Interactive Games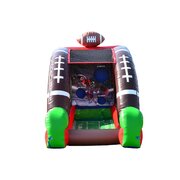 Gelly Ball Battle Party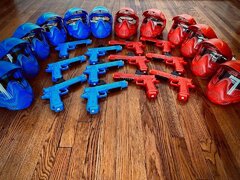 Obstacle Course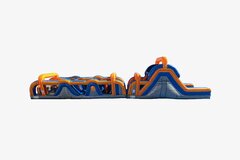 Tables Chairs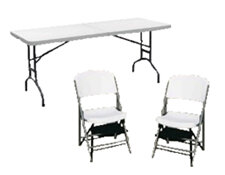 Party Packages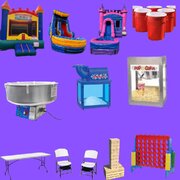 Concession Machines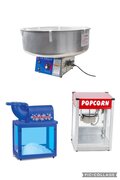 Turn Your Party Into a Fun Extravaganza with Our Dundee Bounce House Rentals!
Don't just host a party, create an experience that your guests will remember for a lifetime with Bounce House Rentals in Dundee. Our wide array of top-notch, safe, and clean bounce houses add that extra dash of excitement that takes your party from ordinary to extraordinary! Whether it's a children's birthday bash, a family reunion, or a community event, our Dundee Bounce House Rentals are perfect for all occasions.
They bring people together, encouraging camaraderie and fostering fun. With us, your party isn't just an event– it's a jubilant jamboree! You can trust us to deliver, set up, and pack up, so all you have to worry about is having fun. So, make your next Dundee event a bouncing success with our fantastic Bounce House Rentals!
Dundee Bounce House Rentals: Unleash the Joy at Your Next Gathering!
Ready to level up your next celebration? Our Dundee Bounce House Rentals are here to unleash the joy! Offering a range of designs, sizes, and themes, we cater to the unique tastes and interests of your crowd. Dive into a world of imagination with our castle-themed bounce houses, or get the adrenaline pumping with our obstacle course inflatables.
We strive to ensure that our Bounce House Rentals in Dundee are not just about bouncing — they're about creating joyful memories. We understand safety is crucial, so all our inflatables meet the highest safety standards. Let's turn your gathering into a thrilling, bouncing adventure with our exceptional Bounce House Rentals. Remember, a celebration with us is always a bounce above the rest!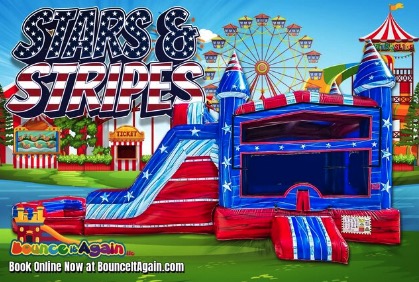 Stars & Stripes Bounce House Combo
The Stars & Stripes Bounce House Combo from Bounce It Again is a burst of patriotic fun, perfect for all American-themed parties and events in Dundee. This lively inflatable not only offers bouncing space but also features a thrilling slide, making it a surefire hit for kids and adults alike, ensuring a memorable time full of laughter and joy.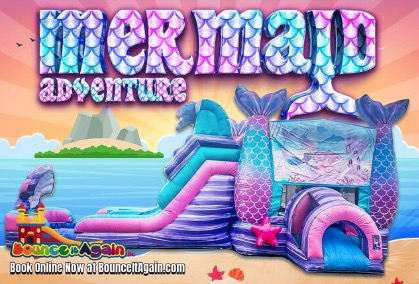 Mermaid Adventure Combo
Dive into a world of underwater fun with our Mermaid Adventure Combo, a favorite among Bounce House Rentals in Dundee! This enchanting inflatable features a spacious bouncing area and a thrilling slide, all wrapped in a captivating mermaid theme that is sure to make a splash at your next event.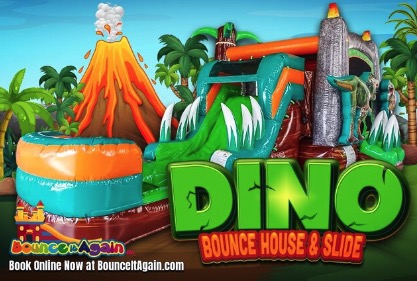 Dino Bounce House Combo
Embark on a prehistoric adventure with our Dino Bounce House Combo, a top choice among our Dundee Bounce House Rentals. This dinosaur-themed inflatable offers a spacious bouncing area and an exciting slide, delivering roaring fun for all ages at your next event.
Bounce High in Dundee: Premium Bounce House Rentals for Your Special Events.
When it comes to special events in Dundee, we believe in delivering nothing but the best. Our premium Bounce House Rentals offer an unbeatable blend of quality, variety, and excitement that's sure to elevate any occasion. From colorful clown-themed bounce houses for a carnival-inspired party to elegant princess castles for a magical soiree, our diverse selection caters to every theme, age group, and preference.
Reliability is our forte, and we pride ourselves on timely delivery and setup, so you never have to stress about the fun factor at your event. Plus, our dedicated team is always on hand to ensure the inflatables are safe and secure, leaving you free to enjoy the festivities. So, for your next special event, choose the best Bounce House Rentals in Dundee and let your guests bounce their way to an unforgettable experience!
Create Unforgettable Memories with Bounce House Rentals in Dundee.
At Bounce it again, we believe that every event is an opportunity to create unforgettable memories. Our Bounce House Rentals in Dundee are designed to do just that. Imagine the joy on your child's face as they bounce away with their friends in one of our vibrant inflatables, or the laughter filling your backyard as adults rediscover their inner child.
Our bounce houses are more than just inflatables; they're catalysts for joy, laughter, and togetherness. From birthdays to BBQs, neighborhood gatherings to corporate events, our Bounce House Rentals are your perfect partner in crime to create happy, bouncing memories that last a lifetime! Choose Bounce it again and give your Dundee event the fun it deserves. After all, a great event is all about great experiences, and with us, they're always just a bounce away!
How to Rent a Bounce House for Your Upcoming Event in Dundee
Renting a bounce house for your upcoming event is a breeze with Bounce It Again. Here's a step-by-step guide to get your party bouncing in no time:
Identify your needs: Determine the size and theme of the bounce house you need. Consider factors like the age group, event theme, and available space in your venue.
Browse our collection: Visit our website or showroom to browse through our wide array of Dundee Bounce House Rentals. From castle-themed bounce houses to exciting obstacle courses, we have something for every event.
Book your favorite bounce house: Once you've chosen your bounce house, contact us to book it for your event date. You can do this online or over the phone.
Confirm the details: We'll need some information about your event, such as the venue's address and the event time. We'll also confirm the delivery, setup, and pack-up details with you.
Enjoy your event: On the day of your event, we'll deliver and set up the bounce house for you. All you need to do is enjoy the fun and make lasting memories!
Remember, for the best Bounce House Rentals in Dundee, Bounce It Again is your go-to choice. Book today and let us take your event from ordinary to extraordinary!